Sports betting is a pretty popular pastime worldwide, but especially in Uganda, and having a betting app makes the experience that much better. But there are tons of sportsbooks that offer betting apps these days.
So, how are you supposed to pick the right one? You simply need to look at the functionalities and you can easily find the best betting apps available to you.
If you're still confused, there's no need to worry. We have the best guide out there on the topic so you can find the best betting apps in Uganda.
Jump to
What to Look for in a Betting App?
Before we get into which apps are our favourites, let's start with how we select them. All sports betting apps have some basic features that are the same.
But the quality of these features distinguishes most apps from the best betting apps. So, in this section, we've listed a few of the criteria that we follow to find the best betting apps in Uganda.
📱 Navigation and App Interface
This is arguably the most important part of any app. If the app is hard to navigate or not appealing to look at, there's a good chance that punters won't continue to use it.
The app should be optimized to fit any mobile screen. And the homepage should display all the relevant tabs that you would expect to find in a sports betting app.
This also includes betting on a sport. All of the best betting apps usually have the betslip displayed in a visible area. And the design of the app is also pretty important. Light colours are easier on the eyes and a sporty theme always looks nice.
⚽ Sports Betting Options
This is a section a lot of punters have a bone to pick with. There are tons of sportsbooks out there with a wide array of sports to bet on. But when you download the app, the same list isn't available.
Instead, it offers a much more limited line of options that punters aren't really happy with. To make it worse, the same markets aren't even available.
So, when you do decide to download a sports betting app, compare it to the operator's official website first. If it appears as though the same functionalities are available, you can go ahead with it too.
⚡ Live Betting and Streaming
This is another function that is similar to the previous one. Sportsbooks sometimes only offer in-play betting and streaming but only on desktop platforms. But being able to bet live on the mobile app is much more convenient.
You should also make sure that the sports betting app offers HD-quality live streaming. There's nothing worse than the game buffering constantly while you're trying to place live bets.
🎁 Bonuses and Promotions
With some of the best sports betting apps, there might be a few mobile-specific bonuses. The one you choose to use doesn't necessarily have to have these.
But it's always great to have all the same bonuses available across all platforms.
Best Football Betting Apps
Arguably, football is the most popular sport on any betting app. The sport is the one most frequently live-streamed as well on most sportsbooks. So, naturally, you'll want to find a sportsbook that offers great football betting options.
The four apps that are on the top of our list are:
1xBet: amazing betting markets for football which are available across all platforms
22bet: offers great odds on football betting and covers a lot of European tournaments
Gal Sport Betting: covers a lot of different football tournaments and offers extensive betting markets
BetWinner: offers great odds on all the football betting markets and a live streaming feature
Best iOS Betting Apps
The best betting apps might differ based on the type of device you use too. Sometimes an app might be available only for iOS devices. Or the app might work better on iOS compared to Android.
We already mentioned a few of our favourite sports betting apps that are available in Uganda. But some punters may be wondering which of them is the best for iOS devices.
In our opinion the BetWinner app performs the best on iOS devices. The app comes with all the same functionalities of the desktop site. It is also pretty easy to download to since the download link is clearly visible on the website.
The app also comes with a sports welcome bonus. The BetWinner app supports the in-play betting and live streaming features.
Other than these, there are plenty of other great features like the navigation buttons. And the design of the app is also easy on the eyes. So, overall BetWinner is a decent choice for iOS users.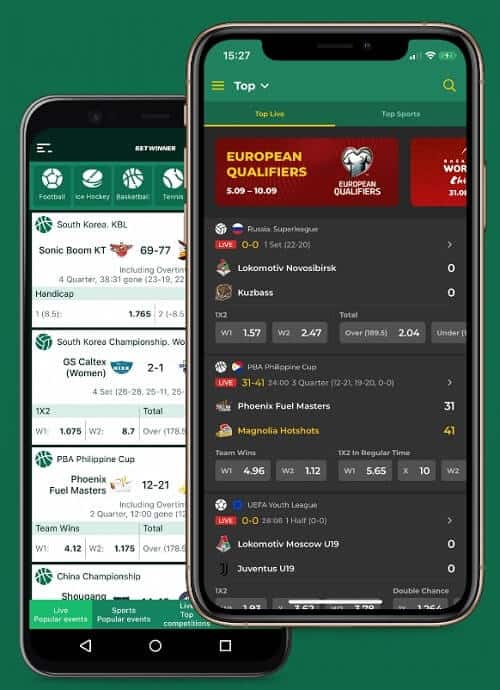 Best Android Betting Apps
Just like with iOS devices, some apps might work better with Android devices. Since almost all sports betting apps need to be installed separately for Android, users need to be extra careful.
One major issue that sports betting apps have with Android devices is crashing and bugs. There are many sports betting apps that perform perfectly on iOS but tend to crash after some time on Android.
But the 1xBet app has outdone most others in this case. The app performs very well on Android and isn't prone to crashing either. There have been bug fixes and updates too. So, the app is liked by many.
Another great aspect of the 1xBet app is that it offers the same bonuses on mobile that you'll find on the desktop site. That means you can complete your registration on the app and use the bonus code when claiming the welcome bonus.
The Android app for 1xBet can be downloaded directly from the 1xBet website. There are many reviews out there that claim that the app has more users than the desktop site.
How to Download Betting Apps
Downloading a sports betting app is actually really straightforward. But if you're using an Android device, you might be faced with a few extra steps.
There's nothing to worry about. Regardless of which device you use, as long as the app is available, this guide will teach you how to download it.
iOS
For iOS devices, downloading the betting app is very easy. Some things to note include the operating system of your device. You should have it updated to the latest version of iOS. And you also need to have some storage space free.
Many sportsbooks have their apps listed on the App Store. But this isn't the case for them all. Either way, you can find the download link to the app on the official site of the sportsbook.
To download the best sports betting app to your iOS device, follow these steps:
First, visit the sportsbook's official website. From there, locate the link for the app.
Click on the "Download" button and you'll be redirected to a new page where you'll find the relevant link for your device.
There, click on "Download for iOS" and the app will start downloading.
Once it is complete, you can complete your registration and start betting.
Android
For Android devices, the process is a bit lengthier than iOS. But the steps are still simple. Most of the time, you might not find the app on the Google Play Store due to restrictions by Google. But, just like the iOS version, it will be available on the sportsbook's site.
Android devices should also be updated to the latest operating system. The only difference from the iOS version is that there is a separate installation process.
Just follow these steps to download any sports betting app to your Android device:
Visit the official sportsbook website and navigate to the app download button.
Press the download button and you will be redirected to a new window. Clicky "Download for Android."
While the app is downloading, go to your device Privacy and Security settings.
From there, enable "Allow installation from unknown sources other than Google."
After the app is downloaded, go to your Downloads folder and click on the "Install" button next to the APK file.
Once the app is installed, you can register and start betting right away.
Mobile App vs Desktop Site
There are quite a few differences between the best sports betting app and a desktop site by the same brand.
➕ Advantages
The primary reason that punters prefer the mobile app is convenience.
With a mobile app, you can log in once on your device and you are secure. You don't have to repeatedly enter a browser to place your bets.
And the best part of a mobile app is you can place your bets from anywhere. Even if you're on the go during a busy day, you don't have to miss out on betting on your favourite team. You just need a strong internet connection and it removes the burden of having to locate a desktop.
The mobile app also consumes much less data and the pages load a lot faster too. Essentially, it gives you every sports betting facility at your fingertips.
A lot of the times, there are mobile-specific bonuses too. If a brand develops a sports betting app, it may be inclined to offer a bonus that can only be claimed from the app. This is a way to get more punters to download the app.
And of course, it works because almost all punters enjoy a bonus here and there.
➖ Disadvantages
These are a few of the reasons punters prefer the mobile app compared to the desktop site. But there are also a couple of disadvantages to using an app.
Primarily, any betting app consumes a lot of storage. Although the app size may only be a few Megabytes, the app itself stores a huge amount of cache data. And this requires you to have storage space free on your device.
But the pros definitely outweigh the cons. And if it were up to us, we'd definitely prefer using the best sports betting apps compared to their desktop counterparts.
Safety and Security
This is another reason that punters prefer a mobile app over the desktop site. Of course, any good brand will have at least a 128-bit SSL encryption on its betting site. But that's only one part of security issues.
If you've been placing your bets using a library PC or someone else's device, there's always a chance you could forget to logout. And this is a huge issue because someone else might get access to your site.
Most sportsbooks recommend that you only login to your account using a trusted device. But despite that, security breaches may occur.
On the other hand, with a sports betting app, you're only using your own device. And you can remain logged in by ticking the field for "Remember Me." This is comparatively much more secure than logging in from the desktop site.
This keeps all of your financial data secured. We definitely do not recommend entering your bank PIN or e-wallet PIN using a browser on any desktop which isn't yours.
You also have to enter a lot of personal data to your device. Usually, if there is a verification process, you need to provide ID, residence, and proof of income. Considering the fact that this is sensitive information, you definitely want to keep it secured.
But whichever platform you decide to use, it's important to check the licensing of the brand itself. The brand should be regulated in your region and have the appropriate licenses as well. This way, you have all your bases covered when it comes to security.
Mobile Payment Methods
Betting apps in Uganda should offer all the local payment methods to the jurisdiction's residents. Usually, funding your account using an app is easier. This is because most people in the region use mobile money methods and all the details are on their phones.
The best betting apps in Uganda will usually offer bank transfers and cards as payment methods. But e-wallets and mobile money methods are more popular.
Some of the most commonly used mobile payment methods are:
MTN Mobile Money
M-PESA
Airtel Money and Tigo
To make payments using one of these methods, you need to link your wallet to your betting account first. On most sports betting apps, you can do this by going into "My Profile" > "Deposits."
After you link your wallet to your account, you can simply make your deposits from the app. To make withdrawals, you might have to get your account verified first. And there will probably also be deposit and withdrawal limits based on the methods that are active.
FAQ
❓ How do I bet online in Uganda?
To bet online in Uganda, you can visit a sports betting site or download the app. There are plenty of betting apps available in the jurisdiction. But if you want the best betting apps, you'll need to do a bit of research about which might perform the best on your device.
❓Is betting via app easy?
Yes, betting via app is arguably easier than using a desktop site. The app is more compact and uses less mobile data too. To bet on a betting app, you need to download it first and then complete your registration.
If you already have an account, you can simply login. To place bets, you can click on the odds of corresponding selections to add them to your betslip.
❓ Is betting legal in Uganda?
Betting is legal in Uganda. But the bookie must be licensed by the National Gamble Board Uganda (NGBU). There are a lot of international bookies operating in Uganda with the proper licenses as well. And it is the responsibility of the punter to make sure that the bookie that they are registering with is legal in their jurisdiction.