If you have come across a 22bet promo code, you might wonder whether the site is any good. As you may already know, promo codes are not everything; betting sites need to have other features too. Well, this 22bet Uganda review is here to answer that very question for you.
22bet Uganda Review
22bet Uganda is one of the best online casino destinations in the country. Since its launch in 2018, it has grown to become one of the most beloved names in the iGaming sector.
And for a good reason too. The table below lists all the reasons why. If you want a deeper dive into the site, the subsequent sections reveal every detail that you should know before registering.
| Pros | Cons |
| --- | --- |
| ✔️ Best in Class Odds | ❌ User Interface Needs Improvement |
| ✔️ 1,000+ Betting Events Every Day | ❌ No Phone Support |
| ✔️ 30+ Betting Markets For Every Event | |
| ✔️ Exceptional Mobile Betting | |
22bet Uganda Features
In this section, we will introduce you to the sportsbook's features that make it such a great place for betting.
This section will help you in deciding whether 22bet Uganda is the right place for you to start your sports betting journey or not. And if you are already betting somewhere else, read along to figure out if it is time for a change.
Welcome Bonus
25+. Make a deposit of at least 1,000 USh. Get a 100% bonus up to 500,000 UGX for sports betting. The maximum sports betting bonus is 550,000 UGX. If the bonus is credited to the bonus account for sports betting, the wagering requirement will be 5x the bonus amount in accumulator bets. Each accumulator bet must contain at least three selections. At least three selections in each accumulator must have odds of 1.40 or higher. T&Cs Apply.
Full T&Cs
New players at 22bet can claim the 100% welcome bonus up to 500,000 UGX when them make a minimum deposit of 1,000 USh. There is a wagering requirement of 5x the bonus amount in accumulator bets and each of these acca bets must have at least three selections.
Impressive Odds
The site is reputed to have some of the best odds in Uganda. This applies to most sports, events, and markets on the site.
But you will find better odds on average for the major sports that are popular in Uganda. This includes football, tennis, basketball, ice hockey, handball, cricket, and others.
Moreover, you will find some of the best odds for the eSports category as well. So, if you are into that, 22bet Uganda is probably the best place you can be right now.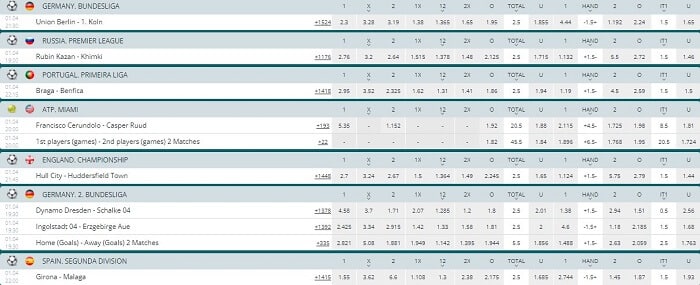 Thousands of Events to Choose from
The site lists many sports and thousands of events on which you can make bets. In fact, one of the marketing taglines for the brand is 'one thousand and one events.'
Basically, what they mean by that is that you can bet on at least 1001 events every single day. This includes almost every major sport like football, basketball, etc. This also includes popular niche sports like handball, darts, horseracing, etc.
Furthermore, there is a special bets section that lets you bet on multiple non-sporting events. In other words, the site does not restrict your betting to sports. Instead, it expands the possibilities to include everything that can be betted on.
All-Embracing Betting Markets
Betting markets are not merely the number of sports or the number of events. It is the number of different types of bets that can be placed on a particular event.
If you have been betting for a while, you might be familiar with the common bet types. Some notable examples include 1X2 bets, double chance bets, over/under bets, handicap bets, anytime goalscorer bets, correct score bets, etc.
If you are just learning about sports betting, these terms may sound a bit strange to you. But no need to worry about that. You will learn the basics here and will pick up more knowledge as you go along your journey.
For instance, 1X2 bets are the simplest and perhaps the oldest form of betting. You just need to predict the final outcome of the match. On the other hand, a correct score bet is more difficult. It involves predicting the exact score of the game.
Similarly, there are many instances during a game on which you can bet using specialized betting markets. For example, when the first goal will be scored, who will score the first goal, when, and even from where it will be scored.
Betting markets have evolved to allow betting on every instance within an event. And that is what you get at 22bet.
The site boasts of having 30 or more betting markets for each event. And our 22bet review suggests that that is true in almost every case.
Round the Clock Betting
22bet Uganda is a 24×7 bookmaker, and they need to be because of several reasons. First, they accept live bets across a wide range of sports and events. Second, they serve punters from various time zones.
Hence, they operate 24×7 and never really close shop. That ensures that you get the same access to betting markets that, say, English punters may get. And that is useful because you may be just as fanatic about the English Premier League as punters in England.
Furthermore, round-the-clock betting also means round-the-clock customer service. You can chat with operators through the live chat feature 24×7. Your withdrawals and deposits will also be processed 24×7.
Easy Payments
The payments processing speeds and the security is simply incredible at 22bet Uganda. The process is so easy because there are so many methods to choose from.
As different payment systems have different processing speeds, security, and fees, you can choose accordingly. Thus, you can choose the one that is the most convenient for you at a given time.
User Experience
In addition to eye-catching aspects like bonuses and betting markets, the overall user experience is an underlying benefit that can make or break a brand. Because you will not continue with a site if they cannot deliver a good experience consistently.
Small everyday things can pile up and turn you away from a site forever. This includes things like user interface, navigability, backend security, and quick resolution of problems.
As per our 22bet review, the site is one of the most user-friendly in Uganda and also globally. Most of the features are easy to find. However, some of the special features can be a bit hard to discover.
The site actually tries to include too many things in a short space, so that is a problem. But, apart from that, the user interface is excellent.
The troubleshooting mechanism is quite strong too. Problems will arise sooner or later. What matters is having a solid mechanism to solve issues quickly.
Technical issues are solved at the backend, and customer issues are solved quickly by the customer support team.
Mobile Betting
One more thing that contributes significantly to user experience, especially in today's climate, is a mobile app. This deserves a special mention in our 22bet review.
Despite the preponderance of mobile apps, many casinos have not been proactive in this regard. That cannot be said about 22bet in Uganda.
The brand has one of the best betting apps globally for both iOS and Android users. You can get the app from the iOS App Store.
If you want the Android app, you have to download the apk file from the site and then install it on your device. The features in the mobile app include almost everything you can get at the full desktop version of the site. You can place bets, watch live games, deposit, and withdraw money anytime.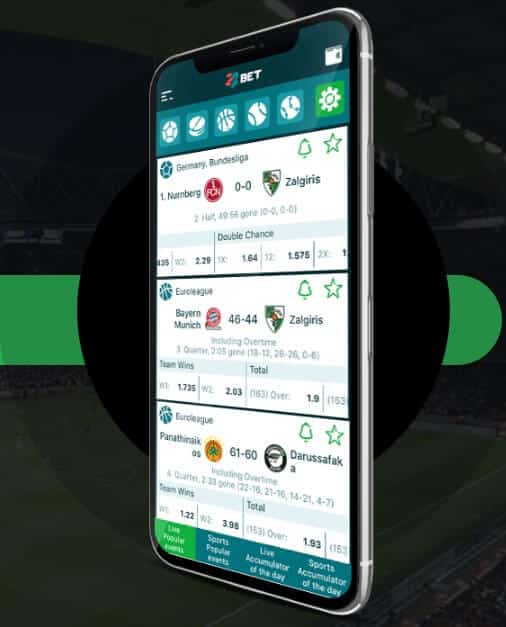 How to Register at 22bet Uganda?
22bet Uganda registration is simple and easy. The best way to do it is to use your mobile phone number. Once you enter your number on the registration form, a confirmation code will be sent. So, make sure the number is active and with you.
After you enter the confirmation code, your account will be created. But you will have to provide other details later to get access to all the features.
How to Login at 22bet Uganda?
The login button is near the registration button. So, you should not have much trouble finding it, no matter whether you are on the app or the site.
The login process requires your phone number and your password. You can even use your registered email address instead of your phone number.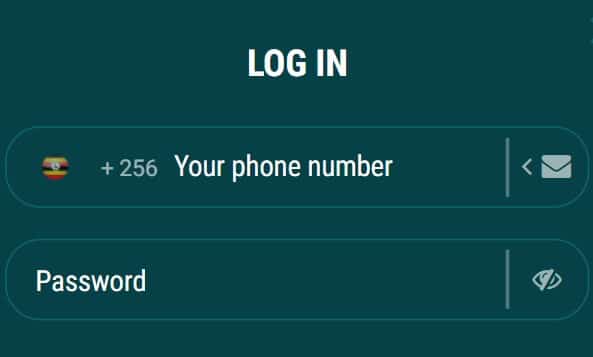 22bet Predictions
22bet predictions are basically betting tips for the 22bet jackpots. There is always some jackpot or another that you can find at the site.
Jackpots require you to predict the outcome of a set of pre-selected fixtures. There is a big prize if you get all of them right, and 22bet predictions can help you.
How to Bet at 22bet Uganda?
The first step to betting at 22bet Uganda is to visit the site/app and login to your account. That much is so obvious that it needs no inclusion in the list. But subsequent steps are as follows:
Select the sport that you are interested in from the list of sports.
Next, select the event from that sport you want to bet on.
Go through all the markets that exist for that event and choose one.
Select your bet, specify the amount, make sure everything is okay on the betslip, and confirm your bet.
Once you go through all those steps, your bet will be confirmed. However, you might be a bit confused about step 3.
Betting markets basically refer to the types of bets that you can place for a particular event. Needless to say, you cannot place all types of bets for all events. This may be because of all sorts of reasons, not least because the sportsbook does not offer so many bet types.
But 22bet Uganda offers a large number of markets. These include 1X2 bets, double chance bets, correct score bets, handicap bets, over/under bets and so on.
22bet Uganda Payment Options
22bet Uganda promises to do their utmost to ensure the fastest and most secure funds transfers for you. And they succeed in doing that in a number of ways.
First, the number of payment methods at your disposal is quite large. You can choose from several banking, e-wallet, and debit/credit card options.
You can go to the 'Payments' section in your account to see the full list of available payment methods. But note that withdrawals work a little differently from deposits.
Withdrawals have to be first approved by the casino after you send in a request. Though refusal rates are low, your request can sometimes be refused.
For example, withdrawal requests can be refused if you use a different method than the one used for deposits. They can also be refused if withdrawal requests are made for payment methods that are not in your own name. You should also remember that withdrawals can be refused if you have not been actively using the site.
However, if none of those issues arises, your request will be processed expeditiously. Operators work round the clock to make that happen.
22bet Uganda Customer Support
22bet Uganda aims to provide exceptional customer service to every punter on their platform. That is one of their key differentiators. And that is how they position their brand in the market.
Therefore, it is not surprising that you can reach them using several convenient methods. The quickest method to resolve an issue is likely to be the live chat feature. You can access this feature anytime. Operators are available 24×7.

However, the wait times might be a bit longer during busy hours. In such cases, you can consider filling out their contact us form or sending them an email.
Both will take some additional time but will give you the chance to express your problem in more detail. The contact us form is easy to find on their website. It should be there in the app as well. Moreover, the emails for 22bet Uganda are as follows:
You should choose the email that is most relevant to your query type.
22bet Uganda FAQs
You can find quick and easy answers to your 22bet Uganda queries below.
❓ Is 22bet Available in Uganda?
Yes, 22bet is an international brand that is completely legal and available in Uganda. It has the proper licences to operate a casino site in the country. They are regulated by the Lotteries And Gaming Regulatory Board of Uganda under the Lotteries And Gaming Act 2016 (Section 27).
❓ How to Play At 22bet?
You can bet at 22bet Casino by creating an account. But you can only do so if you are a 25+ resident of Uganda.
If you are reading this from outside Uganda, there are certain other jurisdictions where 22bet operates a site. You may be able to register there. But, in all likelihood, you would need to be 18+ everywhere.
❓ What Is a Minimum Deposit at 22bet?
The minimum deposit at 22bet depends on the payment method you choose.
❓ How to Contact 22bet Uganda?
You can contact 22bet using three methods primarily. They have a 24×7 live chat feature, a contact form on their website, and a number of email addresses. You can use any of the three methods based on the urgency and the nature of your query.